UniView 7.0.0: Final spec version; links to detailed notes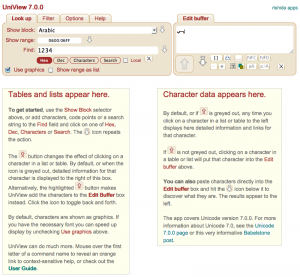 This version updates the app per the changes during beta phase of the specification, so that it now reflects the finalised Unicode 7.0.0.
The initial in-app help information displayed for new users was significantly updated, and the help tab now links directly to the help page.
A more significant improvement was the addition of links to character descriptions (on the right) where such details exist. This finally reintegrates the information that was previously pulled in from a database. Links are only provided where additional data actually exists. To see an example, go here and click on See character notes at the bottom right.
Rather than pull the data into the page, the link opens a new window containing the appropriate information. This has advantages for comparing data, but it was also the best solution I could find without using PHP (which is no longer available on the server I use). It also makes it easier to edit the character notes, so the amount of such detail should grow faster. In fact, some additional pages of notes were added along with this upgrade.
A pop-up window containing resource information used to appear when you used the query to show a block. This no longer happens.
Changes in version 7beta
I forgot to announce this version on my blog, so for good measure, here are the (pretty big) changes it introduced.
This version adds the 2,834 new characters encoded in the Unicode 7.0.0 beta, including characters for 23 new scripts. It also simplified the user interface, and eliminated most of the bugs introduced in the quick port to JavaScript that was the previous version.
Some features that were available in version 6.1.0a are still not available, but they are minor.
Significant changes to the UI include the removal of the 'popout' box, and the merging of the search input box with that of the other features listed under Find.
In addition, the buttons that used to appear when you select a Unicode block have changed. Now the block name appears near the top right of the page with a

icon. Clicking on the icon takes you to a page listing resources for that block, rather than listing the resources in the lower right part of UniView's interface.
UniView no longer uses a database to display additional notes about characters. Instead, the information is being added to HTML files.