Shan
Myanmar script orthography notes
Updated 9 March, 2023
This page brings together basic information about the Myanmar script and its use for the Shan language. It doesn't address use of the orthography for writing Pali. It aims to provide a brief, descriptive summary of the modern, printed orthography and typographic features, and to advise how to write Shan using Unicode.
Sample
ၵူၼ်းၵူႊၵေႃႉၼႆႉ ပဵၼ်ဢၼ်ၵိူတ်ႇမႃးလူၺ်ႈၵုင်ႇမုၼ်ဢၼ်လွတ်ႈလႅဝ်းၽဵင်ႇပဵင်းၵၼ် လႄႈ သုၼ်ႇလႆႈဢၼ် လွတ်ႈလႅဝ်းၽဵင်ႇ ပဵင်းၵၼ်။ ၶဝ်ၼႆႉ မီးၺၢၼ်ႇဢၼ်မေႃထတ်းသၢင် လႄႈ ၸႂ်ဢၼ်ႁူႉၸၵ်းၾိင်ႈတိုဝ်းၵမ် ၼၼ်ႉလႄႈ ထုၵ်ႇဝႆႉၸႂ်ပီႈဢွၵ်ႇ ၼွင်ႉၶႆႇၵၼ်သေ တိတ်းတေႃႇၵၼ်။
ၵူၼ်းၵူႊၵေႃႉၼႆႉ မီးသုၼ်ႇလႆႈတႃႇၶုၺ်ႉႁၼ်ပိူင်ႇငမ်းသုၼ်ႇလႆႈလႄႈ လွင်ႈလွတ်ႈလႅဝ်းတင်းသဵင်ႈ ဢၼ်ပိုတ်ႇၼေဝႆႉ ၼႂ်း လိၵ်ႈပိုၼ်ၽၢဝ်ႇၼႆႉသေ တေဢမ်ႇလႆႈမီးလွင်ႈၸႅၵ်ႇၼႄလူၺ်ႈ ၸၢဝ်းၶိူဝ်း၊ သီၽိဝ်၊ ၶိူင်ႈၽွၵ်ႇ၊ ၵႂၢမ်းလၢတ်ႈ၊ ၸၢဝ်းၵိူဝ်း ယမ်၊ ပၢႆးႁပ်ႉႁၼ်ၵၢၼ်မိူင်း ဢိၵ်ႇတၢင်ႇလွင်ႈ၊ ငဝ်ႈႁၢၵ်ႈ ဢၼ်ၵဵဝ်ႇလူၺ်ႈ ၸိုင်ႈမိူင်း ႁိုဝ် ၸၼ်ႉထၢၼ်ႈၵၼ်ႊၵူၼ်း၊ လွင်ႈ မၢၵ်ႈမီးလီပဵၼ်၊ လွင်ႈၶိူဝ်းႁိူၼ်း လႄႈ ၸၼ်ႉထၢၼ်ႈတၢင်ႇၸိူဝ်ႉတၢင်ႇပိူင် ၸိူဝ်းၼႆႉ။
Usage & history
Shan is the native language of the Shan people and is mostly spoken in Shan State, Burma, but also in pockets of the Burmese Kachin State, and in Northern Thailand. Due to the civil war in Burma, few Shan today can read or write in Shan script.wsl,#Dialects
ၵႂၢမ်းတႆး kwáːm.táj Shan language
Shan is written in the Myanmar script, a descendant of the Brahmi script, via Pallava and Old Mon, which dates back to around the 10th century. Two older orthographies were also used, and are still used to some extent.
The Shan script prior to the 1960s was difficult to read because it didn't clearly distinguish between sounds and tones. The reforms transformed the orthography to make it very readable.
Source Wikipedia.
Basic features
The Shan orthography is an abugida. Consonants carry an inherent vowel which can be modified by appending vowel signs to the consonant. See the table to the right for a brief overview of features for the modern orthography.
Shan text runs left to right in horizontal lines.
Spaces separate phrases, rather than words. ❯ phrase
The script is syllable based. Syllables are regular in construction, and easy to parse.
The 18 consonant letters used for pure Shan words are supplemented by 5 more which are used for non-native sounds. ❯ consonants
It is not clear that Shan stacks consonants or uses other conjunct features.
Syllable-initial clusters use 3 dedicated combining marks for the medials r, j, and w. ❯ onsets
The 6 syllable-final consonant sounds use ordinary characters with a visible mark called asat to indicate that the inherent vowel is killed. ❯ finals
The Shan orthography has an inherent vowel, and uses vowel signs. Vowels use 15 combining marks (including 2 pre-base glyphs), and 3 consonant letters. Unlike Thai and Lao, all pre-base vowel signs are combining marks, and are stored after the base character. ❯ vowels
There are no independent vowels, and standalone vowel sounds are written using vowel signs applied to ဢ [U+1022 MYANMAR LETTER SHAN A].
This description lists 18 composite vowels. Composite vowels can involve up to 4 glyphs, which can surround the base consonant(s) on up to 3 sides. There are no circumgraphs. ❯ composite_vowels
Shan is tonal, but indication of tones in the orthography is very simple, unlike Thai. Explicit tone marks occur after each syllable, except when the first tone is applied. ❯ tones
Shan has native digits, but may also uses Myanmar or ASCII digits. ❯ numbers
Character index
Letters
Show

Basic consonants

ပ␣ၽ␣တ␣ထ␣ၵ␣ၶ␣ၸ␣ၾ␣သ␣ႁ␣မ␣ၼ␣ၺ␣င␣ဝ␣ရ␣လ␣ယ

Extended consonants

ၿ␣ၻ␣ၷ␣ႀ␣ၹ
Combining marks
Show

vowel signs

ိ␣ီ␣ု␣ူ␣ေ␣ဵ␣ႄ␣ႅ␣ႃ␣ၢ␣ႆ␣ွ
Numbers
Show

႐␣႑␣႒␣႓␣႔␣႕␣႖␣႗␣႘␣႙

၀␣၁␣၂␣၃␣၄␣၅␣၆␣၇␣၈␣၉
Phonology
These are sounds for the Shan language.
Click on the sounds to reveal locations in this document where they are mentioned.
Phones in a lighter colour are non-native or allophones. Source Wikipedia.
Vowel sounds
Diphthongs
All but 1 of the diphthongs in Shan end in j or u/w.
Consonant sounds
labial
dental
alveolar
post-
alveolar
palatal
velar
glottal
stops

p

b

t

d

k

ɡ

ʔ

aspirated

pʰ

tʰ

kʰ

affricates

t͡ɕ

fricatives

f

θ

s

z

h

nasals

m

n

ɲ

ŋ

approximants

w

l

j

trills/flaps

r
f is only found initially in eastern dialects, and is pronounced pʰ elsewhere.wsl,#Consonants
ʔ appears before standalone vowels, and after open syllables.wsl,#Consonants
r is very rare and mainly used in Pali and some English loan words, sometimes as a glide in initial consonant clusters. Many Shan speakers pronounce it as l.wsl,#Consonants
Shan doesn't natively have voiced stops or fricatives, however the following sounds may appear in loan or foreign words, and have dedicated consonant letters: b d g f θ z.
See also the dialectal differences described in Wikipedia.
Syllable-final
labial
dental
alveolar
post-
alveolar
palatal
velar
glottal
stop

p

t

k

ʔ

nasal

m

n

ŋ

approximant

w

j
Tone
Unchecked syllables can have 5 or 6 tones. The sixth tone, ႊ [U+108A MYANMAR SIGN SHAN TONE-6], is treated as a standard tone in the north; elsewhere it is only used for emphasis.wsl,#Tones The following examples illustrate usage.
rising

ၼႃ

low

ၼႃႇ

mid

ၼႃႈ

high

ၼႃး

creaky

ၼႃႉ
Checked syllables can have one of the following four tones.
low

လၢၵ်ႇ

mid

လၢၵ်ႈ

high

လၵ်း

creaky

လၵ်ႉ
Structure
Typical Shan words are monosyllabic. Multisyllabic words are mostly Pali loanwords, or Burmese words with the initial weak syllable /ə/.wsl,#Syllable_structure
The basic syllable structure is:wsl,#Syllable_structure
C(m)v(C)
The initial consonant may be followed by one of -w-, -y- and -r-, for which special characters are available.wsl,#Syllable_structure
In closed syllables (ie. those ending with a consonant) the vowel is a monophthong. In open syllables, it can be either a monophthong or a diphthong.wsl,#Syllable_structure
Syllable-final consonants are p̚ t̚ k̚ m n ŋ.wsl,#Syllable_structure
Vowels
Dashes are used to indicate whether the character represents a vowel sound in a closed or an open syllable.
Inherent vowel
ၵ ka U+1075 LETTER SHAN KA
a following a consonant is not written, but is seen as an inherent part of the consonant letter, so ka is written by simply using the consonant letter.
Other vowels
Non-inherent vowel sounds that follow a consonant are mostly represented using combining vowel marks (vowel signs). However, Shan also uses some consonants and other symbols. Several vowel sounds are represented by a combination of code points (see composite_vowels), with glyphs displayed around the base.
All vowel signs are typed and stored after the base consonant, whether or not they precede it when displayed. The glyph rendering system takes care of the glyph positioning at display time. Some input systems may allow the user to type the pre-base vowel before the base consonant, but it is still stored after.
An orthography that uses vowel signs is different from one that uses simple diacritics or letters for vowels, in that the vowel signs are generally attached to an orthographic syllable, rather than just applied to the letter of the immediately preceding consonant. This means that pre-base vowel signs and the left glyph of circumgraphs appear before a whole consonant cluster if it is rendered as a conjunct (see prebase_vowels).
Four vowel signs are spacing marks, meaning that they consume horizontal space when added to a base consonant.
Combining marks used for vowels
ၵိ ki U+1075 LETTER SHAN KA, U+102D VOWEL SIGN I
Shan uses the following dedicated combining marks for vowels.
Unlike Burmese, the pronunciation of the vowel sign doesn't depend on whether it appears in an open or closed syllable.
On the other hand, Shan generally uses different symbols for vowels in open and closed syllables. In some cases, the closed syllable vowel is a smaller version of the glyph used for open syllables, positioned over the consonant, eg. compare မႄႈ မႅင်ႇ
Observation: The length of the open vowels appears to be variable.
Pre-base vowel signs
ၵေ ke U+1075 LETTER SHAN KA, U+1031 VOWEL SIGN E
Two vowel signs appear before the base consonant letter or cluster, eg. မေး
These are combining marks that are always stored after the base consonant. The glyph rendering system places the glyph before the base consonant.
A consonant cluster is treated as a unit when it comes to vowel signs, for example in the following word the pre-base vowel sign is displayed to the left of the kj cluster, although it appears after the cluster in memory ၵျေႃင်း
Some input methods may allow the user to type this vowel before the consonant, whereas others will expect it to be typed after, per the stored order.
Composite vowels
ၵိုၺ် kɨj U+1075 LETTER SHAN KA, U+102D VOWEL SIGN I, U+102F VOWEL SIGN U, U+107A LETTER SHAN NYA, U+103A SIGN ASAT
This section lists vowel sounds represented by combinations of the above characters. There are no circumgraphs in the Shan orthography, but several composite vowels surround the base on more than one side.
Show which combinations contain a given character:
Characters that don't appear in the combinations:
Standalone vowels
The Shan orthography uses no independent vowel letters. Instead, standalone vowel sounds are written by attaching vowel signs to the letter ဢ [U+1022 MYANMAR LETTER SHAN A], eg. ဢၢၼ်ႇ ဢေႇဢေႇ
On it's own, that character represents the standalone version of the inherent vowel, a, eg. ဢပုမ်ႇ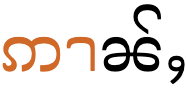 Tones
Tones in Shan are much easier to manage than those in Thai or Burmese. Each syllable is followed by a tone marker, apart from syllables with the first tone.
Tones 2-6 are marked using the following combining marks.
Vowel sounds mapped to characters
This section maps Shan vowel sounds to common graphemes in the Myanmar orthography, grouped by open ( o ), or closed ( c ) syllables. Tonal variations are not taken into account. Click on a grapheme to find other mentions on this page (links appear at the bottom of the page). Click on the character name to see examples and for detailed descriptions of the character(s) shown.
Diphthongs and other combinations
Consonants
Basic consonants
Consonant clusters
Consonant clusters in modern Shan are not stacked, as they would be in Burmese. Closed syllables in a multi-syllable word are typically followed by the asat and (apart from the first tone) a tone mark, eg. ၽၵ်းၵၢတ်ႇမွၵ်ႇ
Onset consonants
Unicode has the following, dedicated combining characters for the second letter in a syllable-onset cluster. The virama should not be used with ordinary letters to produce these. Both of the first two letters appear to be used mostly for loan words.
Final consonants
Syllable-final consonant sounds are indicated by ordinary consonant characters with a visible ် [U+103A MYANMAR SIGN ASAT] character, eg. တွင်
Syllable-final consonant sounds are p̚ t̚ k̚ m n ŋ.wsl,#Syllable_structure
Consonant sounds mapped to characters
This section maps Shan consonant sounds to common graphemes in the Myanmar orthography. Click on a grapheme to find other mentions on this page (links appear at the bottom of the page). Click on the character name to see examples and for detailed descriptions of the character(s) shown.
Sounds listed as 'infrequent' are allophones, or sounds used for foreign words, Sanskrit, etc.
Numbers
Digits
Shan has native digits.
Sometimes Myanmar digits are used, instead.
Wikipedia uses ASCII digits.
The CLDR standard-decimal pattern is #,##,##0.###. The standard-percent pattern is #,##,##0%.
Dates
Glyph shaping & positioning
This section brings together information about the following topics: writing styles; cursive text; context-based shaping; context-based positioning; baselines, line height, etc.; font styles; case & other character transforms.
You can experiment with examples using the Shan character app.
The orthography has no case distinction, and no special transforms are needed to convert between characters.
Font styling & weight
tbd
Punctuation & inline features
Word boundaries
Words are not separated by spaces, nontheless double-clicking or other selection methods are expected to identify word boundaries. There are 2 alternative approaches for managing this.
An application uses a dictionary or smart algorithm to parse the text and determine word boundaries.
The author uses

​

U+200B ZERO WIDTH SPACE

between words when creating the content.
Phrase & section boundaries
Shan uses a mixture of ASCII and native punctuation.
Observation: The question mark can be seen in Wikipedia, eg. ၵူႈၵေႃႉ ၶဝ်ႈႁဵတ်းသၢင်ႈၼႂ်း wiki ႁင်းၶေႃ ၸွင်ႇလႆႈ?
Observation: Wikipedia also very rarely uses a comma in Shan text (maybe only once on a page). A comma was also seen in the middle of embedded Latin text. It's not clear whether this is typical usage.
Bracketed text
Shan commonly uses ASCII parentheses to insert parenthetical information into text.
Quotations & citations
tbd
Abbreviation, ellipsis & repetition
tbd
Observation: ꧦ [U+A9E6 MYANMAR MODIFIER LETTER SHAN REDUPLICATION] appears to produce repetitive sounds. Here are some examples of usage.
ၵႃႈၵွၼ်ႇတွၼ်းဢွၼ် တႃႇတေပဵၼ်မႃး ပပ်ႉသႅၼ်သမ်ႇ ဢၼ်ဝႃႈၼၼ်ႉ ၽူႈလူင်ႉလႅၼ်ႇၶဝ်၊ ၸဝ်ႈၶူးမေႃၶဝ် လႆႈပၼ် ၶၢဝ်းယၢမ်းတင်းၼမ် တႅမ်ႈꧦမၢႆꧦသေ ႁဵတ်းပဵၼ်ပပ်ႉယဝ်ႉ။ ၵႃႈၶၼ်ပပ်ႉသႅၼ်သမ်ႇ ၼိုင်ႈထဝ်ႇၼၼ်ႉၵေႃႈ တေႃႈဢမ်ႇငၢႆႈꧦ။
Inline notes & annotations
tbd
Other inline text decoration
tbd
Line & paragraph layout
Text alignment & justification
tbd
Text spacing
tbd
This section looks at ways in which spacing is applied between characters over and above that which is introduced during justification.
Baselines, line height, etc.
tbd
Shan uses the so-called 'alphabetic' baseline, which is the same as for Latin and many other scripts.
Counters, lists, etc.
You can experiment with counter styles using the Counter styles converter. Patterns for using these styles in CSS can be found in Ready-made Counter Styles, and we use the names of those patterns here to refer to the various styles.
The Shan orthography uses numeric styles.
Numeric
The shan numeric style is decimal-based and uses these digits.rmcs
Examples:
Prefixes and suffixes
The most common approach to writing lists in Shan puts the counters in parentheses.
Examples:
Page & book layout
This section is for any features that are specific to thisScript and that relate to the following topics: general page layout & progression; grids & tables; notes, footnotes, etc; forms & user interaction; page numbering, running headers, etc.