An Introduction to Indic Scripts
Updated 23 March, 2020
This article provides an introduction to the major Indic scripts used on the Indian mainland. Those addressed in this paper include specifically Bengali, Devanagari, Gujarati, Gurmukhi, Kannada, Malayalam, Oriya, Tamil, and Telugu.
Although the Indic scripts are often described as similar there is a large amount of variation at the detailed implementation level. To provide a detailed account of how each Indic script implements particular features on a letter by letter basis would require too much time and space for the task at hand. Nevertheless, despite the variations at the detailed level, the basic mechanisms are to a large extent the same, and at the general level there is a great deal of similarity between these scripts. It is certainly possible to structure a discussion of the relevant features along the same lines for each of the scripts in the set. It is these common themes that this discussion will attempt to highlight, although we will also point out one or two of the differences along the way.
After some historical and phonetic background, we will tackle the subject in two parts:
In the first part I will survey the visual characteristics of these scripts.

In the second part I will make brief reference to some of the practical ways those characteristics are supported using Unicode.
Historical background
The similarity of features across all these scripts is not surprising if you consider their history. As shown in the illustration below, they all derive from a common ancestor. Note also that these scripts are used for two distinct major linguistic groups, Indo-European languages in the north, and Dravidian languages in the south.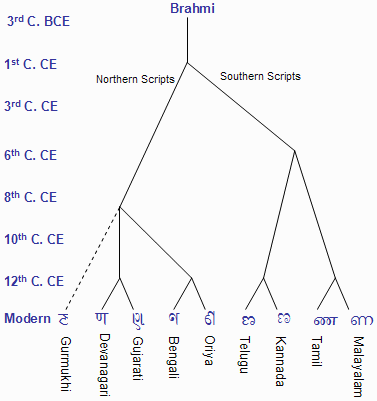 The diagram above is an illustration of the derivation of the character NNA, showing how from a common source (Brahmi) all the different forms arose for the modern scripts. The diagram shows an early divergence between North and South Indian scripts. (Adapted from Daniels and Bright, The World's Writing Systems.)
Sounds of Indic languages
One of the defining aspects of a script is the repertoire of sounds it has to support. Because there is typically a letter for each of the phonemes in an Indic language, the alphabet tends to be quite large. The table below shows a superset of Indic consonant sounds in a traditional articulatory arrangement. It is meant to be illustrative rather than exhaustive, so as to give you an idea of the number of sounds most Indic scripts must support. It does not include all sounds, for example a number of Dravidian alveolar sounds are not shown. The table also provides an approximate idea of how Unicode character names map to actual sounds, though it has to be stressed that this is only very approximate. The IPA transcription is shown to the left, followed by the standard Unicode name for that sound. Note the following:
retroflex variants of a basic sound are found in most Indian languages,
a plosive sound typically has an aspirated and unaspirated version,
many languages also recognise one or more combinations as a single unit for sorting or other purposes, eg.

kʃ

,
it is common for consonant sounds in particular locations to be held for longer than usual (or in the case of plosives, slightly delayed) - these geminated consonants are typically shown by writing two consonants together, although the actual visual appearance can become quite complicated (this is described in more detail later).
Uvular
Velar
Palatal
Retroflex
Dental
Labial
Plosives
Voiceless
Unaspirated
q
QA
k
KA
c
CA
ʈ
TTA
t
TA
p
PA
Aspirated
kʰ
KHA
cʰ
CHA
ʈʰ
TTHA
tʰ
THA
pʰ
PHA
Voiced
Unaspirated
g
GA
ɟ
JA
ɖ
DDA
d
DA
b
BA
Aspirated
gʰ
GHA
ɟʰ
JHA
ɖʰ
DDHA
dʰ
DHA
bʰ
BHA
Nasals
ŋ
NGA
ɲ
NYA
ɳ
NNA
n
NA
m
MA
Fricatives
Voiceless
x
KHHA
ʃ
SHA
ʂ
SSA
s
SA
f
FA
Voiced
ɣ
GHHA
z
ZA
Flapped & tapped sounds
ɽ
DDDHA
ɾ
RA
ɽʰ
RHA
Aspirate, semi-vowels and liquid
h
HA
j
YA
ɭ
LLA
l
LA
v
VA
There are up to 18 Unicode code points dedicated to vowels in each script block, although fewer than this are actually needed on a per language basis. Nearly always these are simple vowel sounds, although occasionally a symbol may represent a diphthong (especially AI and AU). The Unicode names for the whole list are:
A, AA, I, II, U, UU, VOCALIC R, VOCALIC L, CANDRA E, SHORT E, E, AI, CANDRA O, SHORT O, O, AU, VOCALIC RR, VOCALIC LL
Indic languages are syllabic in nature, and the inherent vowel is an important concept (see below). Unless otherwise indicated, each consonant is typically followed by this vowel sound. The inherent vowel can vary in pronunciation from script to script, and examples include ə, ʌ, and ɔ.
Nasalisation of vowels is also an important phonetic feature that affects the written form of several South Asian languages. The effect is similar to the nasalisation of words like 'en' in French.
Characteristic script features
Unicode implementation notes
Glossary
abugida

A word used to describe scripts where consonant letters represent syllables with an inherent vowel. See Consonants and inherent vowels.

addak

A diacritic used in Gurmukhi to lengthen the following consonant sound. See Consonant clusters.

anusvara

A diacritic used to represent nasalisation of vowels and/or to represent nasalised consonants. See Nasalisation and alternative nasal letter representations.

articulatory

Related to the production of speech sounds.

aspirated, aspiration

Aspirated consonants are those produced with an audible expulsion of breath. Note that a non-aspirated consonant, such as a b, is produced with much less aspiration than a similar sound in English.

bindu

A diacritic used to represent nasalisation of vowels and/or to represent nasalised consonants. See Nasalisation and alternative nasal letter representations.

combining character

A character that graphically combines with a preceding base character. Combining characters are not usually used on their own, They include combining accents, diacritics, vowel signs, etc.

conjunct forms

A special graphical representation used to display a combination of consonants without intervening vowels. See Consonant clusters.

diphthong

A pair of vowels considered to be a single phoneme where the tongue moves from one to the other in such as way as to cause continual change in vowel quality.

glyph

The visual representation of one or more underlying characters. A font is made up of a set of glyph images.

half-form

A reduced version of a consonant glyph (typically missing the vertical stem) used to represent a consonant without a following vowel. See Consonant clusters.

homorganic

A consonant articulated at the same point in the vocal tract as a consonant in another class. For example, ŋ is the homorganic nasal of k.

independent vowel

A vowel used at the beginning of a word or within a word immediately after another vowel sound. See Independent vowels.

inherent vowel

In Indic scripts a consonant character represents a syllable that includes the consonant followed by a default (inherent) vowel sound. This vowel sound varies by language and script. See Consonants and inherent vowels.

ligature

A glyph representing a combination of two or more characters.

logical order

The order in which text is usually typed on a keyboard. For the most part, logical order corresponds to phonetic order.

nukta

A diacritic used in several indic scripts to extend the range of sounds covered by the alphabet. See Consonants and inherent vowels.

plosive

A sound produced by the mouth in such as way as to temporarily block the passage of the air, eg. a p.

phoneme

A minimally distinct sound in the context of a particular spoken language. For example, in UK English p and b are distinct phonemes because 'pat' and 'bat' are distinct.

repha

A glyph representing the character RA as the initial consonant in a cluster. The repha appears to the right of the consonant cluster. See Consonant clusters.

retroflex

Retroflex sounds are those made with the tongue being curled upwards.

tippi

A diacritic used in Gurmukhi to represent nasalisation of vowels and/or to represent nasalised consonants in the following syllable. See Nasalisation and alternative nasal letter representations.

virama

A combining mark used to indicate a consonant without a following vowel. See Consonants and inherent vowels.

visarga

A character used most commonly to transcribe Sanskrit, but also sometimes having additional uses such as in Tamil where it is used in conjunction with other characters to create sounds not in the basic repertoire. See Visarga.

vowel sign

A combining character used to indicate the replacement of the inherent vowel associated with a consonant with another vowel sound. See Vowel signs.
References
Sources
The Unicode Consortium, The Unicode Standard -- Version 3.0, ISBN 0-201-61633-5. (See http://www.unicode.org/unicode/standard/versions/Unicode3.0.html.)
P Daniels, W Bright, The World's Writing Systems, ISBN 0-19-507993-0
R Gillam, Unicode Demystified, ISBN 0-201-70052-2
R Snell, S Weightman, Teach Yourself Hindi, ISBN 0-340-42464-8
Kalra, Purewall, Teach Yourself Panjabi, ISBN 0-340-70129-3
Other references
C Wissink, Unicode Technical Note #1, http://www.unicode.org/notes/tn1/
K Zia, Mapping of National Urdu Standard to Unicode, Proceedings of 22nd International Unicode Conference, 2002
M Dürst, F Yergeau, M Wolf, R Ishida, T Texin, Character Model for the World Wide Web 1.0, (See http://www.w3.org/TR/charmod/.)
Acknowledgements
Many thanks to Cathy Wissink, Mark Davis and Joe Becker for reviewing the initial version of this paper at very short notice and still making numerous useful comments and suggestions.
First published 15 Aug 2003. This version

2020-03-23 14:07

GMT. • Copyright r12a@w3.org. Licence CC-By.